Painter In Berlin Steglitz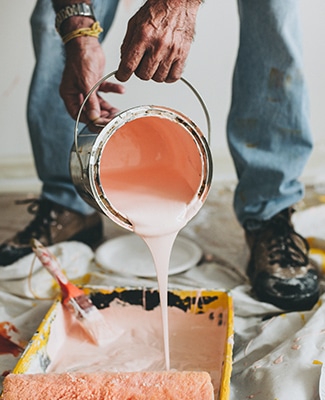 We can help you with minor renovations, wallpaper, or damaged area repairs as a painter and varnisher – even during a move.
Our work always includes carefully chosen materials, unique design, and expert advice.
We are happy to help you with painting, varnishing, wallpapering, and plastering. Allow our experts to provide you with personalized advice on your project.
Professional Painting Company In Berlin Steglitz
All types of painting work are handled by our painting company Berlin Steglitz. We are here for you, whether you are a private customer or a commercial customer.
We work with you to complete all tasks with your wishes, thoughts, and suggestions. We create a wonderful feel-good environment in your private space, while we generate a relaxing atmosphere for all workers, visitors, and clients in your company space.
YOUR ADVANTAGES AT MALER BERLIN STEGLITZ
FRESH WALLS FOR A NEW ATTITUDE TOWARDS LIFE
It's not simply about putting the new paint on the walls. A unique color, on the other hand, can provide satisfaction, comfort, and well-being. A poorly chosen color, on the other hand, might create discomfort, which is why picking the right colors is so important. The overall situation is decided by the details. Colors have the power to affect people's lives! Let us help you if you want to paint or wallpaper your walls!
Do you want something different but aren't sure what it is? Then let our skilled painters in Berlin Steglitz provide you with free advice. We have completed multiple projects to our client's complete satisfaction and are happy to provide you with helpful tips and ideas for fulfilling your wants and ideas. Make an appointment for a free consultation right now — we can't wait to meet you!